Audio Amplifier
| | |
| --- | --- |
| The audio amplifier shown below provides 14 watts of power, but can provide much more simply by increasing the power supply voltage. This amp was built in 1975 and has worked reliably ever since. The power amp portion was published in Popular Electronics in the mid-1975s. I added a preamp and bass and treble controls. This amp has extremely low distortion and is relatively insensitive to the choice of components. | |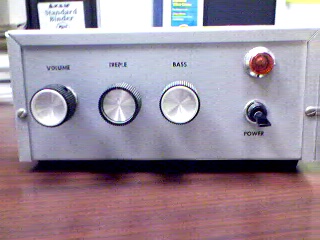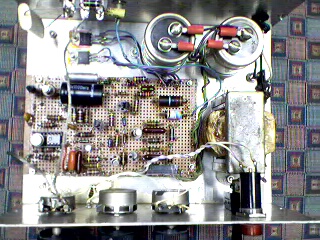 The power amplifier is actually a discrete power op-amp. As such the gain is set by R18/R23. The pre-amp has a voltage gain of 10, for an overall gain of approximately 150. I recommend non-polarized capacitors for C2 and C9, even though the schematic shows that I have used polarized capacitors. Modern op-amps,with the same pin-out as the op-amps shown in the schematic, can be used in the pre-amp portion.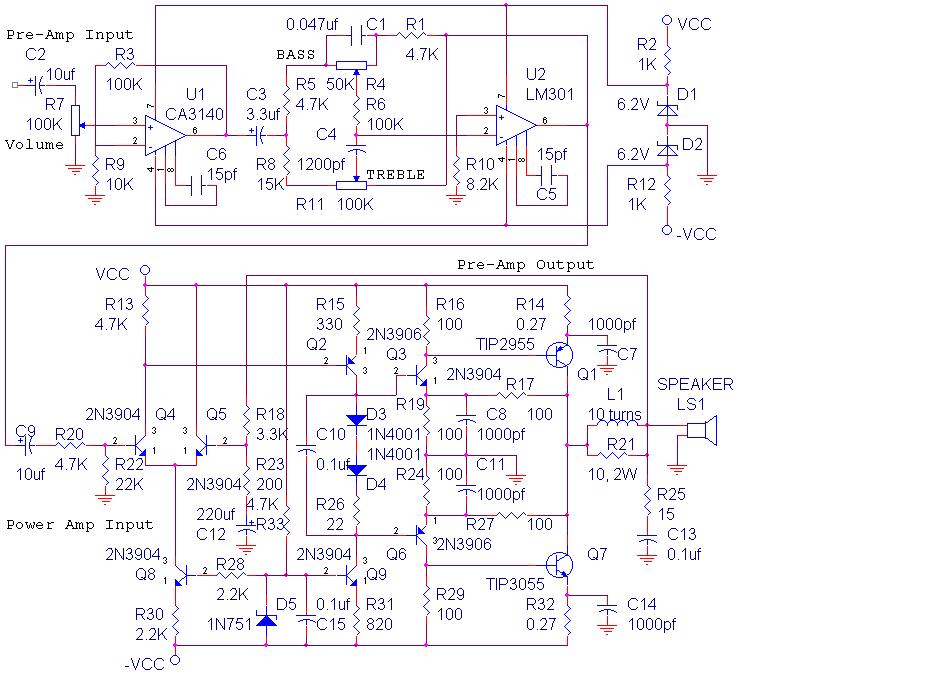 Download the audio amplifier Orcad Schematic File

The available output power is limited by the power supply. Up to 70 watts output has been achieved with this topology, however parallel output transistors should be used to insure against damage, at higher power levels.
Download the power supply Orcad Schematic File

Examples of Modern Amplifiers
| | |
| --- | --- |
| 20 watt amplifier using the Philips TDA1554 IC. | Mini power amplifier using National Semiconductor IC. |


Other Links
TDA2030 8 watt amplifier
Tone control circuit
Misc. Audio Circuits

A semi-comprehensive list of audio ICs and comparison prices as of Nov. 1999, as best I could obtain them
AN214 .......... Audio Amp ..................... 12.35
AN7148 ......... AF Amp ......................... 0.00
APEX.............PWM Amplifiers.......................
BA5402 ......... Dual Audio Amp, 4.2Wx2/4R ...... 3.50
BA5406 ......... Dual Audio Amp ................. 7.80
BA5413 ......... Audio Amp ..................... 28.60
HA12001 ........ Audio Amp ...................... 0.00
HA13119 ........ Audio Amp ..................... 10.98
HA13128 ........ Dual AF Amp, 2x22W/4R BTL ..... 10.20
HA1366 ......... Audio Amp ..................... 20.90
HA1366WR ....... Audio Amp ..................... 18.10
HA1368 ......... Audio Amp ..................... 23.80
HA1377 ......... PYE etc Car Audio ............. 11.80
HA1389 ......... Audio Amp 7W/8R Max 30V 10-SIL . 0.00
HA1392 ......... Audio Amp ...................... 8.20
KA2210 ......... 5Wx2 Audio Amp ................ 11.10
KIA6210AH ...... Audio Amplifier ............... 24.75
LA4445 ......... Dual 5W AF amp (Alpine etc) .... 8.90
LA4460 ......... AF Amp ........................ 11.20
LA4461 ......... AF Amp ......................... 8.60
LA4500 ......... Audio Amp ...................... 6.00
LA4508 ......... Audio Amp ...................... 0.00
LA4700 ......... AF Amp ......................... 0.00
LA7831 ......... AF Amp ......................... 0.00
LM1875 ......... 30W Audio Amp ................. 11.40
LM1877N-9 ...... Audio Amp ...................... 5.45
LM4865...........Audio Amp, 1W, headphone sense.......
LM3089 ......... use CA3089 ..................... 0.00
LM380N ......... (14DIL) 2W Audio amp ........... 2.40
LM380N-8 ....... 8-dil Audio amp ................ 2.10
LM386N-1 ....... L.P. Audio Amp ................. 1.05
LM3886 ......... Audio Amp 50W / 8R ............ 24.15
LM388N-2 ....... 0.8W/6V Audio Amp .............. 4.00
MB3579 ......... Icom etc ...................... 12.30
MB3710 ......... AF Amp, 5.6W/4R 10-SIL ......... 0.00
MB3712 ......... AF Amp, 5.7W/4R 8-SIL .......... 9.00
MB3713 ......... Icom Spare .................... 11.05
MB3722 ......... Dual AF Amp 5.8W/4R 12-SIL ..... 0.00
MB3730A ........ AF Amp. 12W/4R 18V max......... 11.51
MB3731 ......... AF Amp, 18W/4R 18V 12-SIL ...... 0.00
MB3732 ......... AF Amp ......................... 0.00
MB88303 ........ AF ? ........................... 0.00
MB88305 ........ AF ? ........................... 0.00
STK0029 ........ AF Amp 35W/8R Max +/-37V ...... 26.85
STK0080 ........ Audio Amp ..................... 53.00
STK015 ......... Audio Amp ...................... 0.00
STK032 ......... AF Amp ........................ 54.70
STK078 ......... AF Amp ........................ 44.05
STK2028B ....... Audio Amp ...................... 0.00
STK2028II ...... Audio Amp ...................... 0.00
STK2038II ...... Audio Amp ..................... 49.90
STK2240 ........ Audio Amp ..................... 42.40
STK3042 ........ Audio Amp ..................... 31.00
STK3042II ...... Audio Amp ..................... 28.10
STK3044 ........ Audio Amp ..................... 29.30
STK3102 ........ Audio Amp ...................... 0.00
STK3122 ........ Audio Amp... sim STK3102 ....... 0.00
STK3152 ........ Audio Amp... sim STK3102 ....... 0.00
STK4026 ........ Audio Amp 25W/8R Max 38V ...... 30.70
STK4121II ...... Audio Amp ..................... 28.05
STK4172II ...... Dual AF Amp 40W/8R Max.48V .... 58.70
STK439 ......... Dual AF Amp 15W/8R ............ 36.15
STK441 ......... Audio Amp ..................... 48.80
STK461 ......... Dual AF Amp 20W/8R ............ 37.40
STK463 ......... Dual AF Amp 25W/8R ............ 42.50
STK465 ......... Dual AF Amp 30W/8R ............ 42.55
STK4853 ........ Dual AF Amp 30W/8R ............ 47.75
STR40090 ....... AF Amp ........................ 24.90
TA6210 ......... use KIA6210 .................... 0.00
TA7140 ......... AF Driver/ Phones Amp. 7-SIL ... 0.00
TA7201 ......... AF Amp 5.8W/4R 13.6V 10-DIL+ .. 23.40
TA7204 ......... AF Amp 4.2W/4R Max 18V 10-SIL .. 0.00
TA7205AP ....... AF Amp 5.8W/4R Max 18V 10-SIL .. 8.40
TA7222P ........ AF Amp 5.8W/4R Max 25V 10-SIL .. 6.50
TA7230 ......... Dual AF Amp 2x4W/4R Max 24V .... 0.00
TA7283 ......... Dual AF Amp 2x4.6W/4R ......... 15.60
TA7318P ........ Audio Amp ...................... 0.00
TA8202K ........ Dual AF Amp, 2x3W/8R Max 18V ... 0.00
TA8205AH ....... Dual AF Amp, 2x15W/4R Max 25V . 28.85
TA8207 ......... AF Amp ......................... 0.00
TA8210AH ....... Audio Amp ..................... 28.95
TA8215H ........ Audio Amp ...................... 0.00
TA8215L ........ Audio Amp ..................... 23.05
TA8216H ........ Dual AF Amp, 2x13W/8R Max 40V .. 0.00
TA8227 ......... Dual AF Amp, 2x2.5W/4R Max 20V . 3.85
TBA810 ......... 7W Audio Amp ................... 0.00
TBA820 ......... 1.2W Audio Amp ................. 7.10
TBA820M ........ 1.2W Audio Amp ................. 0.00
TBA920 ......... 1.2W Audio Amp ................. 0.00
TC9106 ......... PLL Freq. Synthesizer ......... 22.80
TC9153 ......... DC Vol. Control ................ 8.70
TDA1170D ....... use TDA1170S ................... 0.00
TDA1190Z ....... TV Sound Det.................... 0.00
TDA1235 ........ TV Sound Det.................... 0.00
TDA1510A ....... Dual AF Power Amp ............. 12.10
TDA1512 ........ AF Power Amp .................. 17.64
TDA1514 ........ Audio Power Amp ................ 0.00
TDA1515AQ ...... Dual 6W Audio Power Amp ........ 0.00
TDA1516Q ....... Dual 11W Audio Power Amp ....... 0.00
TDA1518BQ ...... Dual 11W Audio Amp ............ 13.30
TDA1519 ........ Dual 11W Audio Amp ............ 10.80
TDA1520A ....... Audio Power Amp ................ 7.50
TDA1520BQ ...... Audio Power Amp ............... 13.35
TDA1521A ....... Dual 12W Power Amp ............ 18.50
TDA1521S1 ...... Dual 12W Audio Amp ............ 15.10
TDA1524 ........ Stereo Tone/Vol Control ........ 8.35
TDA1541 ........ AF Amp ........................ 53.00
TDA1554Q ....... AF Amp ........................ 13.80
TDA1558Q ....... AF Amp ........................ 10.35
TDA1870A ....... TV Vert.Osc & O/P / Blank.Gen . 21.32
TDA1940 ........ TV Horiz. processor ........... 18.75
TDA2002 ........ use TDA2003 .................... 0.00
TDA2003H ....... 10W Audio Amp TO-220 ........... 2.55
TDA2004 ........ Dual 10W Audio Amp ............. 8.46
TDA2005 ........ 20W Bridge Audio Amp ........... 8.70
TDA2006 ........ 12W Audio Amp .................. 5.60
TDA2007 ........ Dual 6W Audio Amp ............. 10.20
TDA2008 ........ 12W/ 24V Audio Amp TO-220 ...... 9.10
TDA2009 ........ Dual 10W Audio Amp ............. 9.75
TDA2030A ....... 14W Audio Amp .................. 6.50
TDA2040 ........ 20W AF Amp. TO-220.use TDA2050 . 0.00
TDA2050 ........ 20W AF Amp. TO-220 ............ 12.00
TDA2611A ....... Audio Amplifier ................ 7.65
TDA3190 ........ use TDA1190 .................... 0.00
TDA7052 ........ AF Amp 1W/6V DC ................ 2.85
TDA7231 ........ 1.6W Audio Amp ................. 7.45
TDA7240A ....... Audio Amp ..................... 11.18
TEA2025 ........ Dual Audio Amp ................. 4.60
UPC1156H ....... Audio amp ..................... 30.75
UPC1188H ....... Audio Amp ..................... 13.77
UPC1230H2 ...... Audio Amp ...................... 0.00
UPC1242 ........ Audio Amp ...................... 9.30
UPC1277 ........ Audio Amp ..................... 13.44
UPC1342 ........ AF Amp Ctrl (Sony) ............ 18.10



Mike Ellis, 1999